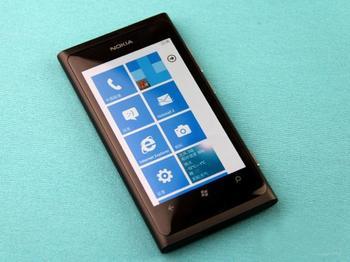 The deal with Microsoft caused Nokia to lose its iconic mobile phone business. In addition to receiving $5 billion in cash, Nokia is also "retiring" from the highly competitive smartphone market; another $2.2 billion in cash will enable Microsoft to use Nokia's patents in the next 10 years. What is more advantageous to Nokia is that Nokia has retained its own patents and obtained new license customers. Some shareholders may hope that Nokia will continue to implement its recovery strategy and create greater value. However, given the performance of Nokia stocks in previous weeks, this is unlikely.
Before selling the mobile phone business to Microsoft, Nokia's market value was about $14.7 billion. It is estimated that non-mobile phone businesses, including cash reserves, account for about 75% of Nokia's $18 billion fair value. Due to the fierce competition from Android, the transition to the Windows Phone platform is not going well. The performance of the Nokia mobile phone business is sluggish, and the valuation of the Nokia mobile phone service is only slightly higher than US$1 billion. Since the patented business (included in the mobile phone business unit) can generate about 500 million euros of cash flow each year, the value of the Nokia mobile phone business (excluding patent licensing business) is negative. Selling mobile phone business to Microsoft can bring great value to shareholders.
Nokia's share price has risen by about 60% since its announcement with Microsoft last month. However, industry sources pointed out that due to the possession of numerous outstanding patents and the continuous revival of network equipment business, Nokia's market value is still quite high. It is estimated that the value of Nokia's value-added shares after the sale of the mobile phone business is approximately US$7.75, which is about 20% higher than the current stock price.
After the sale of the mobile phone business, Nokia still left three major businesses - network equipment, intellectual property licensing and Here map, of which network equipment accounted for most of Nokia's commercial value. Recently, Nokia spent 1.7 billion euros to acquire a 50% stake in Nokia Siemens Networks ("NSN") held by Siemens. The reduction in Nokia's cash reserves was $0.6 per share. However, Nokia's cash flow will increase by 1.7 US dollars per share, and the market value will increase by about 6 billion U.S. dollars. Therefore, the acquisition of NSN shares held by Siemens will increase Nokia's value by approximately US$1.1 per share. Taking into account the smooth progress of the NSN reorganization plan, the above estimates are still conservative.
Based on the current price, Nokia's annual revenue from intellectual property business is approximately 500 million Euros. The Nokia patent is worth about $4 billion, or $1 a share. In addition, Microsoft paid Nokia a license fee of US$2.2 billion for a patent of US$0.6 per share.
Nokia has nearly 16,000 patents in the United States. There are still 4,500 patents pending approval, and a large number of patents are standard key patents. Given that Nokia is not basically selling mobile phones in the United States, there is little possibility of counterclaims, so there will be more chips in the future when negotiating patent licensing agreements. This means there is more room for growth in Nokia's intellectual property business.
The sale of hardware business made Nokia's valuation fall by a quarter, or more than US$1.1 per share. However, the sale of the hardware business will increase Nokia's cash reserves by 5 billion U.S. dollars, or about 1.33 U.S. dollars per share. Therefore, the deal with Microsoft made Nokia worth about $6.7 billion, or $1.8 per share.
The acquisition of NSN shares held by Siemens and the sale of the mobile phone business to Microsoft will increase Nokia's fair value by US$2.9 to US$7.75 per share.
Accessories for cameras are mainly for care, protection, special effects and functions.

Lens hood: used on the end of a lens to block the sun or other light source to prevent glare and lens flare (see also matte box).
Lens cap: covers and protects the lens during storage.
Lens adapter: sometimes called a step-ring, adapts the lens to other size filters.
Lens filters: allow artificial colors or change light density.
Lens extension tubes allow close focus in macro photography.
Flash equipment: including light diffuser, mount and stand, reflector, soft box, trigger and cord.
Care and protection: including camera case and cover, maintenance tools, and screen protector.
Large format cameras use special equipment which includes magnifier loupe, view finder, angle finder, focusing rail /truck.
Battery and sometimes a charger.
Some professional SLR could be provided with interchangeable finders for eye-level or waist-level focusing, focusing screens, eye-cup, data backs, motor-drives for film transportation or external battery packs.
Tripod, microscope adapter, cable release, electric wire release.
Dew shield - Prevents moisture build up on the lens.
Camera Accessories,Selfie Stick Adaptor,Smartphone Selfie Stick,Threw Hold Camera Accessories
GUANGZHOU WEWOW ELECTRONIC CO., LTD. , https://www.stabilizers.pl