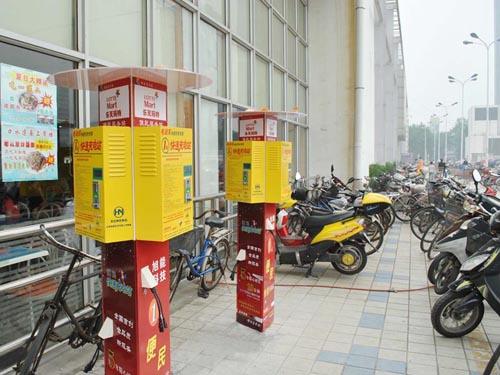 With the increasing number of electric vehicles, in order to reduce the embarrassment of riding an electric vehicle in the middle of the road, a quick charger for the "refueling" of electric vehicles appeared in the streets. The reporter learned from the Jinan Road in the West City that the quick charging stations for electric vehicles that were originally convenient for citizens were rarely visited. Most of them were in name only.
On the morning of the 15th, the reporter saw an electric vehicle quick charging station on the side of a lottery station near Jinan Road Mobile. This fast charging station is like a small light box, and there are two coin slots in the middle, which can be used to charge two electric vehicles at the same time. The voltage and charging time are shown on the small display and are marked with the price, usage tips and safety warnings.
The reporter learned from the owner of the lottery station that "a coin of RMB 1 can be charged for 10 minutes and can be charged for a maximum of 30 minutes." However, at present, everyone does not understand this type of quick charger, and not many people use it. "From July 2011 to now more than half a year, business is not good. There are often one or two customers a day, and sometimes there is no charge for a few days."
The reporter observed here for nearly an hour. There were a lot of electric cars in the past, but there was no citizen who came here to charge. Citizen Xu told reporters, "Generally ready to go before going to charge will be prepared, unless the accident occurs halfway, only for emergency use. Always feel bad for the electric car battery, plus the installation time is too short, small volume, the installation location is not Eye-catching, many people are not paying attention."
The reporter consulted for weeks who had been engaged in multi-year electric vehicle maintenance. He learned that the principle of the quick charging station is very simple. In fact, it is a high-speed, high-current pulse charging method. If electric vehicles are often charged and discharged quickly, it will certainly affect the life of batteries using lead-acid batteries, but it will have little effect on electric vehicles using lithium batteries.
The reporter then contacted Li Zhaoxian, the person in charge of the electric vehicle quick charging station. He told reporters that in order to facilitate electric vehicle users, dozens of fast charging stations have been installed on Jinan Road in Xicheng. "In winter, it takes about 1 kilogram of electric energy to drive about 5 kilometers. In summer, it is no problem to drive 7-8 kilometers. It may not be installed for a long time. The number has not yet been popularized. Some people are not very convinced in terms of concept, resulting in rapid use of daily charging. There are not many people at the station."
Food Processor 11 In 1 is our latest Food Processors. They include almost all the features that can meet the needs of family life.
Description for Food Processor 11 In 1
1000W, 8825 full copper motor with fuse
3 speeds with pulse, chrome rotary switch, with blue LED light
2.0L AS food processing bowl(thickness 2.0mm) with chute lid.
With 1.5L AS plastic blender jar, 0.4L dry mill
With 3 stinless steel big shredder disc parts
With chopper blade, dough blade, egg whisk, citrus juicer

With small juice extractor




2pcs/ctn,
Color box size: 53.2*27.2*40.7cm Carton Box: 56*54*42.5cm
20'GP: 452pcs
40' HQ: 1052pcs



Food Processor 11 In 1
Food Processor 11 In,Stainless Steel Food Processor,Stainless Steel Jar Food Processor,Best Food Processors
Flying Electronic Co., Ltd , https://www.flyingelectronic.com