(Text / high-tech LED reporter Hu Yanling)

Recently, Taiwan's sapphire crystal growth company Yuefeng subsidiary Taiju Optoelectronics successfully developed the largest, 120 kg sapphire crystal growth furnace in Asia. The company's relevant person in charge said that this grade of crystal growth furnace can greatly reduce production costs, and is suitable for the production of crystal rods of more than 6 inches.

Just half a month ago, Jiangsu Shuangliang Group Co., Ltd. revealed that the company's introduction of the Ukrainian Sinus sapphire crystal growth furnace technology has been digested and absorbed. It is expected that the 85kg sapphire crystal growth furnace will be after the Spring Festival in 2012. Target market.

According to Gaogong LED reporter, before this, the sapphire crystal growth furnace for LED production can be supplied on the market, mainly including GTAT 100 kg grade crystal growth furnace, US TT 90 kg grade crystal growth furnace, ARC-energy 30 kg. The grade crystal furnace and the Russian 35 kg grade crystal growth furnace.

Due to the overcapacity warning of the global sapphire ingots, and the continued expansion of domestic sapphire ingots, the price of 2-inch sapphire substrates has plummeted from a high of $35 to less than $10 in the past year. .
In comparison, the price reduction of 4-inch sapphire substrates on the market is not obvious. The reason is that the technical difficulty of cutting out the crystal rods of 60 kg or more and cutting the 4 inches and above is still high, so the price reduction is limited. .

At the same time, in addition to some manufacturers in Europe, America and Taiwan in mass production of 4 inches and above epitaxial wafers, domestic and foreign manufacturers are still mainly based on 2 inches. According to the reporter's understanding, the current price of 4-inch sapphire substrates can still maintain a level of about 50 US dollars. Considering that the subsequent epitaxial manufacturers gradually open large-scale epitaxial production processes, sapphire crystal growth manufacturers are also deploying large kilogram product lines.

According to the statistics of the High-tech LED Industry Research Institute (GLII), although the current sapphire substrate is at a low price, the investment boom of the domestic sapphire crystal growth project is beginning to become rational, but the investment enthusiasm of the crystal growth furnace equipment seems to be enthusiasm. It doesn't seem to cool down. In the past 2011 alone, more than ten companies in China have invested in the development of crystal growth furnace equipment, and some of them have already received orders to start mass production.

The following are some of the domestic companies that develop sapphire crystal growth furnaces.


| | | | |
| --- | --- | --- | --- |
| the company | Established | Main business | Growth principle |
| Yunnan Blue Crystal | year 2002 | Mainly produces LED sapphire substrate, self-developed crystal furnace | 坩埚 descent method |
| Yuanliang Technology | December 2007 | Focus on special optical glass and new crystal materials, develop long crystal furnace | TSTTT method |
| Chengdu Dongjun Laser | 2001 | Specializing in laser crystal research and development, self-developed crystal growth furnace equipment | Induction heating molybdenum rhodium reduction method |
| Shanghai Ruiliang Crystal Technology Co., Ltd. | June 22, 2011 | Mainly engaged in research and development of sapphire crystal growth equipment and related technical services | Bubble method |
| Jiangsu Huasheng Tianlong Optoelectronic Equipment Co., Ltd. | 2001.12 | Professional photovoltaic equipment research and development production company, involved in the production of sapphire equipment in 2010 | Bubble method |
| Zhejiang Yufeng New Energy Technology Co., Ltd. | December - 29, 2009 | LED grade crystal growth and processing equipment manufacturer | Bubble method |
| Suzhou Youjing Optoelectronics Technology Co., Ltd. | Â  | Professional production of sapphire single crystal growth equipment and provides a bubble process | Bubble method |
| Jiangsu Nengjian Group | 1984 | A professional company that integrates production automation control, separation machinery, maintenance tools and other products. In November 2011, its sapphire equipment was put into production smoothly. | Bubble method |
| Crystal Land | 1998 | He has accumulated more than ten years of experience in the development and production of LED holiday lights. Successful trial production of sapphire equipment in 2011 | Bubble method |
| Jiangsu Shuangliang Group | 1982 | A large-scale comprehensive enterprise group integrating machinery manufacturing, new chemical materials and hotel services. It is expected that sapphire equipment will be put on the market in 2012. | unknown |
Low price grab

According to the investigation of the high-tech LED reporter, the current domestic crystal growth furnace equipment has formed a certain sales scale in the market, but the order quantity of a single enterprise is not large. Taking shipments in 2011 as an example, Zhejiang Yifeng's shipments are around 110 units, and Tianlong Optoelectronics' shipments are only about 70 units. The rest also includes some small and medium-sized manufacturers with shipments of around 30-50 units.
At the same time, a batch of manufacturers that have already sampled in 2011 also received orders for 2012. It is reported that Jinglade, which successfully developed 30 and 85 kg grade crystal growth furnaces this year, has received 120 orders. Most of these orders came from companies that entered the sapphire market in 2011.

According to the high-tech LED reporter, the domestic sapphire crystal growth furnace manufacturers' products are generally 20% lower than the imported equipment. The purpose is to quickly seize the emerging market share at a low price, and the gross profit margin is about 20%. The gross profit margin of first-line domestic equipment manufacturers like Zhejiang Yufeng is maintained at 30%.

"The furnace itself has no technical content, and it can be made in about half a year." Mr. Xu Yongliang, Managing Director of Zhejiang Yifeng New Energy Technology Co., Ltd. told reporters, "A high-performance sapphire crystal furnace, furnace body Less than a quarter of the technical content, more technical difficulties lie in the unified combination of technology and hardware, control system. How to integrate the process into the control system, this is the most difficult place." Therefore, according to According to Xu Yongliang, not all crystal growth furnaces are suitable for mass production of sapphire. Only sapphire crystal growth equipment with reliable furnace performance, stable process, high automation and continuous optimization of process technology is a qualified equipment for mass production.

According to the reporter, most domestic enterprises have only begun to develop the crystal growth furnace in the past two years. Most of the business of the enterprise is either starting from the beginning, and some relying on the support of equipment business in other areas of the enterprise. Compared with foreign companies, these companies have less R&D investment and lower starting points.

"Now most of the domestic manufacturers of stoves are not professional, and many of them are turned over by equipment manufacturers in other fields. They usually do what they can, and they can't do it. Enterprises generally do not have perfect after-sales service, and there is not enough research and development capability. Most of them are in a state of copying and copying technology. Many industry insiders have revealed to reporters the current potential of domestic sapphire crystal growth furnace equipment research and development. rule".

The reporter also got a similar default from Xu Yongliang: "The place that domestic enterprises need to improve is intellectual property. Our company does not even dare to apply for core patents, but only apply for peripheral patents because core patents are difficult to protect."

1.ANTENK Flexible Printed Circuit (FPC) and Flexible Flat Cable (FFC) connectors are ZIF (zero insertion force) and LIF (low insertion force) connectors designed to provide a fast, easy, reliable method to make a connection of flexible printed circuits to a PCB. Adam Tech`s special contact design completely preserves conductor integrity by eliminating all wiping action while making connection. Flex circuitry enters the connector and the connector cap is pressed down to capture the flex circuit producing a stable, high pressure connection. Raising the cap releases the pressure for exchange or replacement of circuitry. This series includes single and dual row versions in thru-hole or SMT mounting in vertical or horizontal orientations.

2.Our products are widely used in electronic equipments,such as monitors ,electronic instruments,computer motherboards,program-controlled switchboards,LED,digital cameras,MP4 players,a variety of removable storage disks,cordless telephones,walkie-talkies,mobile phones,digital home appliances and electronic toys,high-speed train,aviation,communication station,Military and so on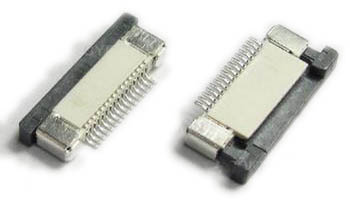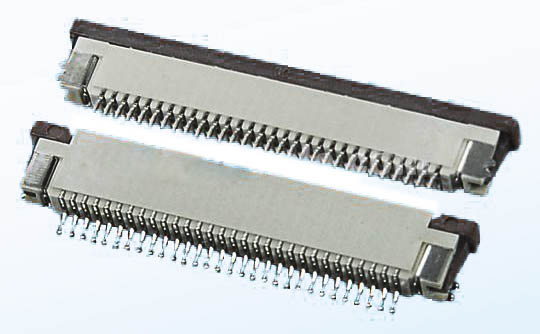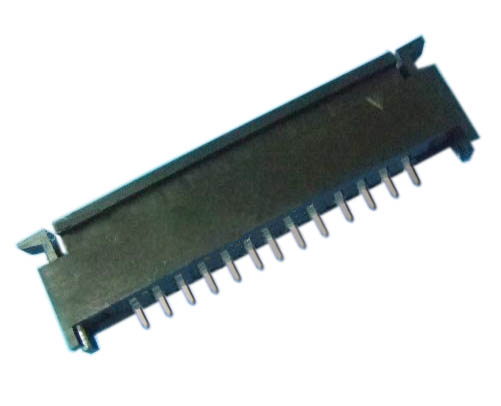 FFC Connector Range Available as:
0.3,0.5, 0.8, 1.0,1.25, 2.54mm connector pitch
Surface mount
Side and Top entry
Side entry parts - Top and bottom contact options
ZIF (Zero Insertion Force)
Slide and flip lock actuator styles
Specifications:
Material And Finish:
Insulator: LCP
Lock: PPS
Insert Spring:Phosphor Bronze,
Matte Tin Plated
Solder Platten Area:Phosphor
Bronze,Matte Tin Plated
Electrical:
Voltage:500 V AC(rms)/DC
Current:0.5 A AC(rms)/DC
Contact Resistance:20 mΩ max(initial)
Insulation Resistance:800 MΩ min
Operating Temp:-20°-85°
Fpc Connector,Fpc Cable Connectors,Ffc Cable Connectors,Pitch Fpc Connector,Surface mount FPC/FFC Connectors,Top entry FFC Connectors, Side entry FFC Connectors
ShenZhen Antenk Electronics Co,Ltd , https://www.antenk.com