[Text / high-tech LED reporter Tang Guirong] On January 18, Shenzhen Tongpu Technology Co., Ltd. (hereinafter referred to as "Tongpu Technology") signed a strategic cooperation agreement with Shenzhen University. The cooperation project is mainly to develop integrated package (COB), modularize the package, improve production efficiency and reduce product cost.
Tongpu Technology mainly provides LED full color LED display, LED application lighting products and services. Through the establishment of the COB Joint Lab, Tongpu Technology has achieved a successful transformation of LED lighting.
According to the agreement plan, the two parties will jointly establish a LED optoelectronics joint laboratory and a postgraduate internship base. The lab is expected to be officially put into production around March 2013. Pang Guiwei, chairman of Tongpu Technology, said that this year the company will mass produce COB packaging products according to the research and development progress of the laboratory.
It is reported that since 2012, LED display companies have turned into the LED lighting industry. Due to the low barriers to entry in the LED lighting industry, its technology has not received much attention from enterprises. "The biggest problem currently plaguing the LED lighting industry is heat dissipation and uniformity of lighting." Pang Guiwei said that the company hopes to solve the problem of lighting heat dissipation and uniformity of illumination by cooperating with Shenzhen University to overcome technical difficulties in the industry.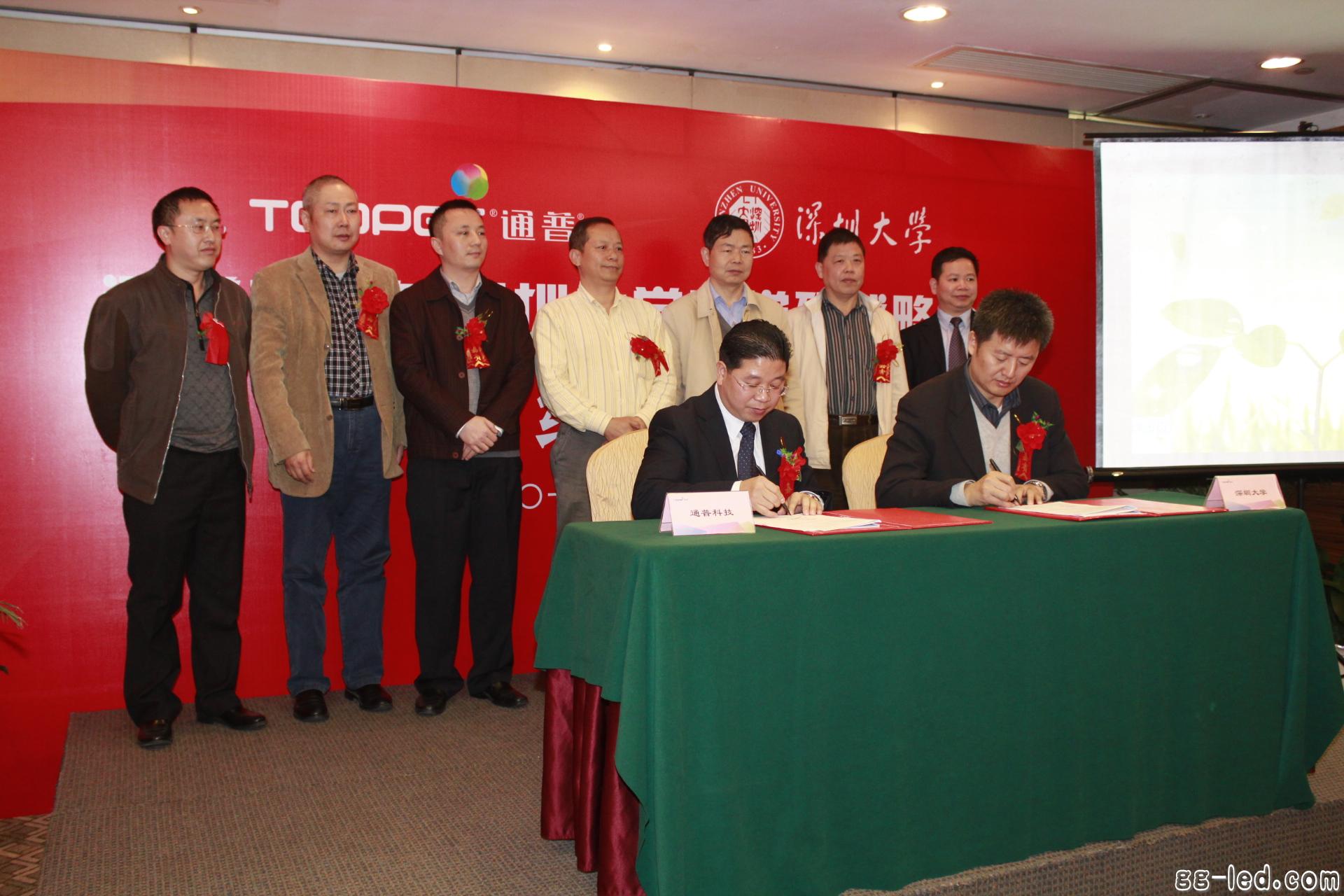 In fact, as early as a few years ago, Tongpu Technology has begun to develop LED lighting and make a good product reserve. "2012 is the test year for the introduction of LED lighting to the market. Through the overseas sales alliance, the company's LED lighting products have been recognized by the market." Pang Guiwei said that in 2012, the company's LED fluorescent tube sales were 100,000 per month. Only above, and in April 2012, the company successfully signed a single largest order 450,000 LED fluorescent tubes.
In addition to LED fluorescent tubes, Tongpu Technology has developed emergency LED tubes, which have developed rapidly in overseas markets; Tongpu Technology LED ring lights have also successfully entered the Japanese market.
In addition, "High-tech LED" learned that in 2012, the sales volume of Tongpu Technology was 200 million yuan, an increase of 66.67%. Among them, the annual sales of LED lighting is more than 500,000, and the sales amount reaches 80 million yuan.
According to Pang Guiwei's plan, the company's LED lighting scale will exceed the display business in 2013. This cooperation with Shenzhen University has laid a technical foundation for Tongpu Technology to continue to explore overseas markets.
It is reported that in the public LED lighting promotion program launched by Shenzhen in 2012, Tongpu Technology has successfully entered the second batch of benchmark system catalogue. Pang Guiwei said that this is another opportunity for Tongpu Technology, and the company has already prepared its products.

With a constant current of IC, the working voltage of the IC is 12-24V. As long as the voltage is not lower than the rated voltage, the current of each led beacon will be consistent.It is made of high-brightness LED (LED is made of imported chip---high brightness, good electrical).
No pressure drop can be achieved over a specific length and voltage.Suitable for urban lighting projects,home decoration, bars, dance halls, cars, indoor/outdoor advertising and interior and exterior contours of various high-end venues
Constant Current LED Strip,5050 RGB LED Strip,Constant Current LED Strip Flexible,Bright Constant Current LED Strip
SHEN ZHEN SEL LIGHTING CO.,LTD , https://www.sel-lighting.com